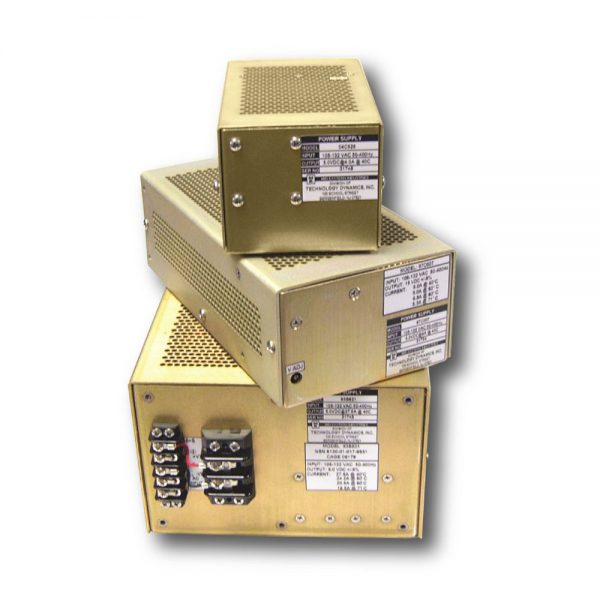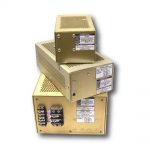 Custom Replacement Modular Linear Power Supplies
Custom and "or equal" replacement designs.
Mid-Eastern has built many "Or Equal" replacement power supplies meeting the physical and electrical requirements of legacy units built by other manufactures.
"Or Equal" means form, fit and function equality including any environmental requirements along with location of mounting holes, terminal location and sequence, and location of any adjustments.
Many of these power supplies are sold by Mid-Eastern as approved replacement items with the same NSN as the original manufacturers units.
We also provide these products to many primes such as Raytheon, Lockheed Martin as well as various US Govt. agencies to support legacy equipment in the military.
Description
Models
Data Sheets
Description
Our Custom Replacement Modular Linear Power Supplies are the ideal solution for your custom linear power supply needs.
| ME Model # | Volts | Amps | Original Supplier | Model # | National Stock Number | Picture |
| --- | --- | --- | --- | --- | --- | --- |
| 01C490 | 1.4 V | 7 A | HONEYWELL | 5157755 | 6130-01-554-9881 | |
| 01C462 | 5 V | 3.7 A | LAMBDA | LM-B-5 | 6130-01-671-9900 | |
| 01C462-SPC642 | 5 V | 3.7 A | LAMBDA | LM-B-5-OV | 6130-01-671-9900 | |
| 04C526 | 5 V | 4 A | LAMBDA | LXS-A-5-OV-R6035 | | |
| 08C580 | 5 V | 5.1 A | LAMBDA | LM-C-5R | 6130-00-314-7885 | |
| 87C007 | 5 V | 9 A | LAMBDA | LCS-C-5-OV-R | 6130-01-047-4320 | |
| 01C463 | 5 V | 10.5 A | LAMBDA | LM-CC-5 | | |
| 97C367 | 5 V | 12 A | | | 6130-01-098-7096 | |
| 83B821 | 5 V | 27.5 A | LAMBDA | LXS-D-5-OV-R | 6130-01-017-6931 | |
| 91C105 | 0-7 V (DUAL) | 1 A | LAMBDA | LCD-A-11 | | |
| 91C123 | 8 V | 2.4 A | LAMBDA | LCS-A-8-R | 6130-01-242-3815 | |
| 02C503 | +/- 12 V | 2 A | LAMBDA | LND-X-122 | | |
| 88C016 | 12 V | 4 A | LAMBDA | LM-C-12-Y-R | 6130-00-470-4926 | |
| 10C587 | 12 V | 10.5 A | LAMBDA | LXS-CC-12-OV-R | 6130-01-517-9432 | |
| 10C591 | 12 V | 10.5 A | LAMBDA | LCS-CC-12-OV | | |
| 05C529 | +/- 15 V | 1.5 A | SORENSEN | PTM 15-1.5D | | |
| 97C363 | +/- 15 V | 2.1 A | LAMBDA | LND-X-152 | 6130-01-098-2917 | |
| 03C518 | 15 V | 2.4 A | SORENSEN | PTM 15-2.4 | | |
| 02C509 | +/- 15V | 2.5 A | LAMBDA | LND-X-152 | | |
| 01C458 | 15 V | 2.8 A | LAMBDA | LCS-4-15 | | |
| 99C426 | 15 V | 3 A | LAMBDA | LXS-A-15R | | |
| 85B921 | 15 V | 3.5 A | LAMBDA | LM-C-15 | | |
| 08C579 | 15 V | 6 A | LAMBDA | LCS-C-15 | 6130-01-053-5224 | |
| 15C634 | 15 V | 6 A | LAMBDA | LM-CC-15R | | |
| 82B806 | +/- 15 V | 6.2 A | LAMBDA | LXD-D-152-R | | |
| 02C497 | 15 V | 8 A | | | | |
| 91C125 | 15 V | 9.5 A | LAMBDA | LCS-CC-15-R | 6130-01-081-7835 | |
| 03C519 | 15 V | 10 A | SORENSEN | STM15-10 | | |
| 96C311 | 15 V | 19 A | LAMBDA | LXS-E-15R-41496 | 6625-01-455-4381 | |
| 16C640 | 0 - 18 V (DUAL) | 1 A | LAMBDA | LCD‐4‐22 | | |
| 91C124 | 0-18 V | 2.3 A | LAMBDA | LCS-C-02-R | 6130-01-077-6939 | |
| 01C460 | 24 V | 3.8 A | LAMBDA | LDS-X-24 | | |
| 89C075 | 24 V | 5.4 A | LAMBDA | LNS-W-24 | | |
| 87B995 | 24 V | 6.8 A | LAMBDA | LCS-CC-24-R | 6130-01-045-7112 | |
| 88C035 | 24 V | 10 A | LAMBDA | LXS-D-24-R | | |
| 01C459 | 28 V | 2 A | LAMBDA | LCS-4-28 | | |
| 01C461 | 28 V | 3 A | LAMBDA | LCS-C-28 | | |
| 03C517 | 28 V | 3.5 A | SORENSEN | PTM 28-3.5 | | |
| 99C433 | 28 V | 6 A | LAMBDA | LCS-CC-28-R43247 | | |
| 86B951 | 28 V | 9 A | LAMBDA | LXS-D-28-R | | |
| 01C464 | 28 V | 10 A | LAMBDA | LM-E-28 | | |
| 84B870 | 28 V | 13 A | LAMBDA | LM-EE-28 | | |
| 84B869 | 28 V | 17 A | HONEYWELL | 10140632 | | |
| 17C654 | 28 V | 17 A | LAMBDA | LXS-EE-28R | 6130-01-037-9397 FD | |
| 96C304 | 28 V | 24 A | | | | |
| 91C106 | 0-32 V | 1.1 A | LAMBDA | LMC-01-32 | 6130-01-323-8267 | |
| 91C109 | 22-32 V | 2 A | LAMBDA | LM228 | 6130-00-242-9469 | |
| 93C213 | 3.5-50 V | 0.2 A | | | 6130-01-453-8631 | |
| 94C235 | 3.5-50 V | 0.2 A | | | 6130-01-445-4229 | |
| 93C214 | 0-50 V | 1 A | | | 6130-01-453-8262 | |
| 94C236 | 3.5-50 V | 1 A | | | 6130-01-445-4230 | |
| 95C259 | 150 V | 1.1 A | LAMBDA | LMD-150R-2207 | | |
| 95C260 | 150 V | 1.4 A | LAMBDA | LME-150R-2207 | | |
| 06C552 | 160 V | 0.4 A | | | | |
| 16C639 | 250 V | 10 mA | WESTING HOUSE ELECTRIC | PDS22393 | | |
| 06C553 | 320 V | 0.2 A | | | | |